Preparing for the 1st April 2022 mandatory vaccination regulations
We have three separate, stand alone events on the introduction of mandatory vaccination. These are aimed at domiciliary care and other, non-residential CQC registered services (care homes were covered by prior events last year). These are on:
Tuesday 01 February 2022, 09:30 - 11:00
Tuesday 15 February 2022, 09:30 - 11:00
Wednesday 09 March 2022, 14:30 - 16:00
You can sign up free for one of these here: https://events.skillsforcare.org.uk/skillsforcare/1320/home
This webinar held in October 2021 was for health and social care workers to ask questions about the Covid booster, first and second doses and the flu vaccine. Expert panel for this session includes Dr Ogechukwu Iluzue (GP), Dr Tehseen Khan (GP) and Jodie Gardiner (Head of Workforce and OD - London).
Winter vaccinations stickers and communications materials
Public Health England have published a communications toolkit: "Health and Social Care Workers Winter Vaccinations 2021" to encourage uptake of the COVID booster and flu vaccination among health and social care staff. The toolkit includes shareable social media content, blogs and marketing materials including stickers for vaccinated staff to wear.
A simple registration process allows access to this website. After logging on, you can order printed versions of materials by clicking on the trolley icon below each item. The stickers come in sheets of 30.
Download the communications toolkit from the PHE Campaign Resource Centre
The COVID-19 Webinars are hosted by colleagues from the NCL councils (Barnet, Camden, Enfield, Islington, Haringey) and our local NHS. They provide the following information:
Information about the COVID-19 vaccination

How to access the vaccination across NCL

Resources for social care staff

LIVE Q&A with NHS clinicians
Please see a link to the most frequent question and answers that social care staff have asked us within the Webinars: LINK
We have also produced some frequently asked questions that care staff have asked us (link).
We have also produced a Manager's Toolkit to share tips and good practice from social care providers in north London (PDF).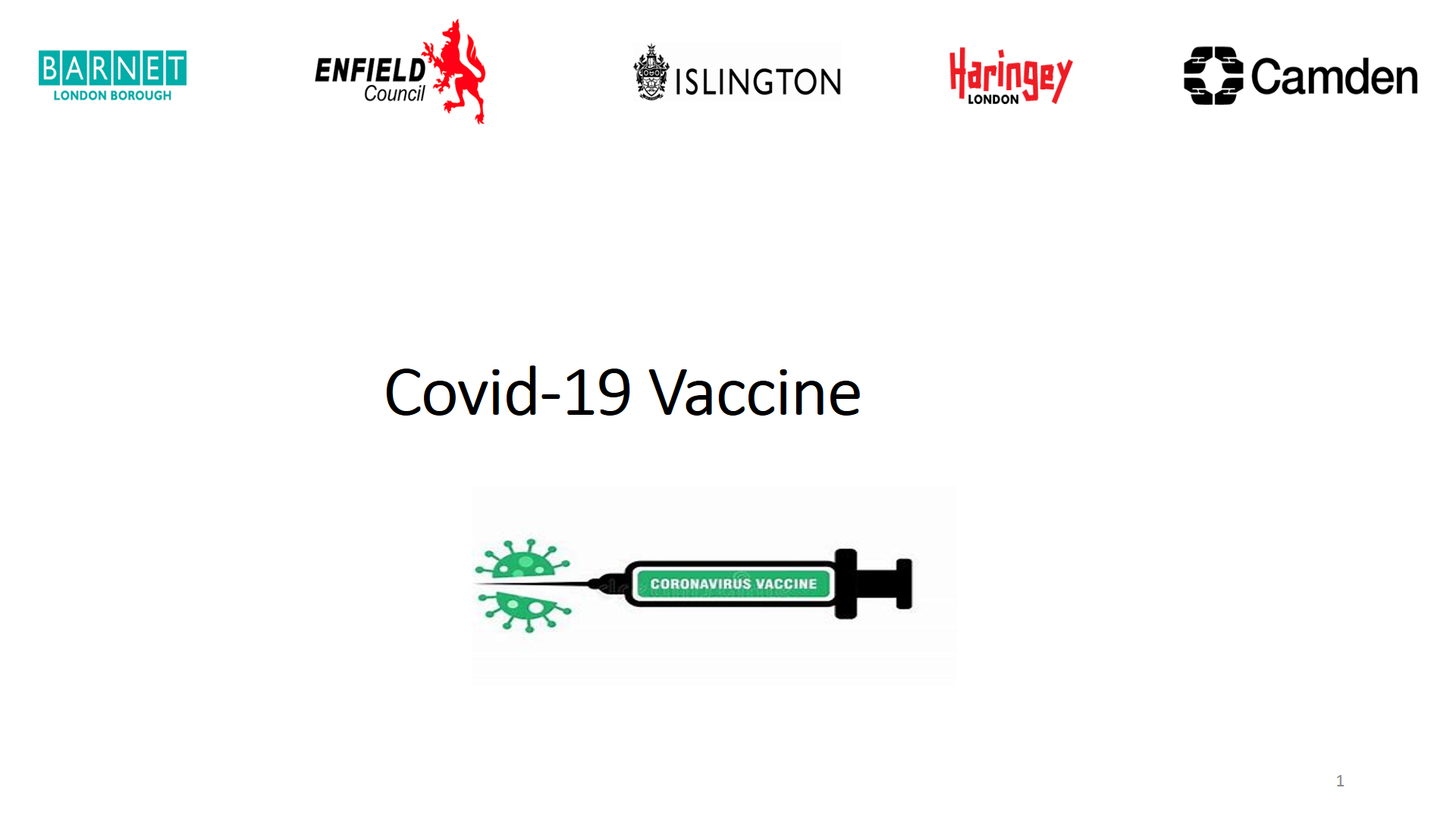 There are also a range of community champions and events for north London's diverse communities. You can find out more from your Council's website or via your local lead. You can also find vaccine information in a range of community languages here
You can also find the latest iteration of the slides that you can download and share with your staff HERE
Thousands of social care staff and residents have already received the vaccination and we see the numbers growing quickly each week. However, we know some staff have concerns and want to know more about the vaccine. The COVID-19 webinars have been designed to provide creditable information and address some of the main concerns.
Social care staff have told us that the webinars have helped them make an informed decision about having the vaccine.