Welcome to support with improving care!
We appreciate how important it is to support those who are vulnerable within the community to remain more independent, support their wellbeing and maintain connections with others.
On this page you will find more information for social care staff and providers:
Click above for information relating to people's experiences of social care and the extent to which they feel supported to live their life as they want. Working in social care involves caring for all. For more information on LGTBQ+ experience within adult social care and best practice.
Workforce Race Equality Standards
People from ethnic minority communities account for one in five of the adult social care workforce in England and play a vital role in the day-to-day care of people in our communities.
Across the North Central London: 52% of direct carers identify as black yet only 32% of managers are 41% are white-British where they only form 22% of the workforce. Research around management representation and the reasons for disparities in representation is needed as detailed in the table below. (Source: Skills for Care's ASC-WDS data set for North Central London, 2021)

Consequently, Barnet, Camden, Enfield, Haringey and Islington are reviewing how we can support social care staff from ethnically minoritised communities (Black, Asian and Minority Ethnic) - more information coming soon.
See a list of some of the available resources to support providers and social care staff:
Click above for more information relating Digital Social Care (e.g. NHSMail, DSPT). Digtial Social Care, helps you meet CQC and legal requirements as well as helping you keep residents and business information secure.
A key part of successfully running your care business is compliance with CQC regulations put in place to ensure good quality care. But good quality care in itself is may not be enough to achieve the rating you want for your business to attract more customers and to ultimately provide better quality care. Skills for Care have provided extensive guidance on preparing for inspection including guides on Delivering 'good' and 'outstanding' care and Recommendations for CQC providers. These guides will not only help you improve care but also enable you to demonstrate the good care and practice you do to CQC inspectors. Preparation is key! The guides and more are available on Skills for Care Provider Support
Click the link above for more information relating to:
Council procurement and commissioning
Clinical Commissioning Group Contracts (CCG)
Private Sector Clients
Additional resources
The guides and more are available on https://www.skillsforcare.org.uk/CQC-provider-support/CQC-provider-support.aspx and Skills for Care: Opening a care organisation
Good Practice
Social care providers have had huge challenges to face in responding to the pandemic and in north London we have seen a fantastic amount of resilience, creativity and unwavering commitment to delivery the best support possible to residents.
This short pack has a few examples that celebrate the resourcefulness of the care sector and may give other providers ideas to think about, borrow and improve on further. The case studies are all from winter 2020, ahead of the vaccination programme, so there may be examples where policies or guidance has or will change in the future, such as around visiting and testing, so please bear this in mind when looking at examples.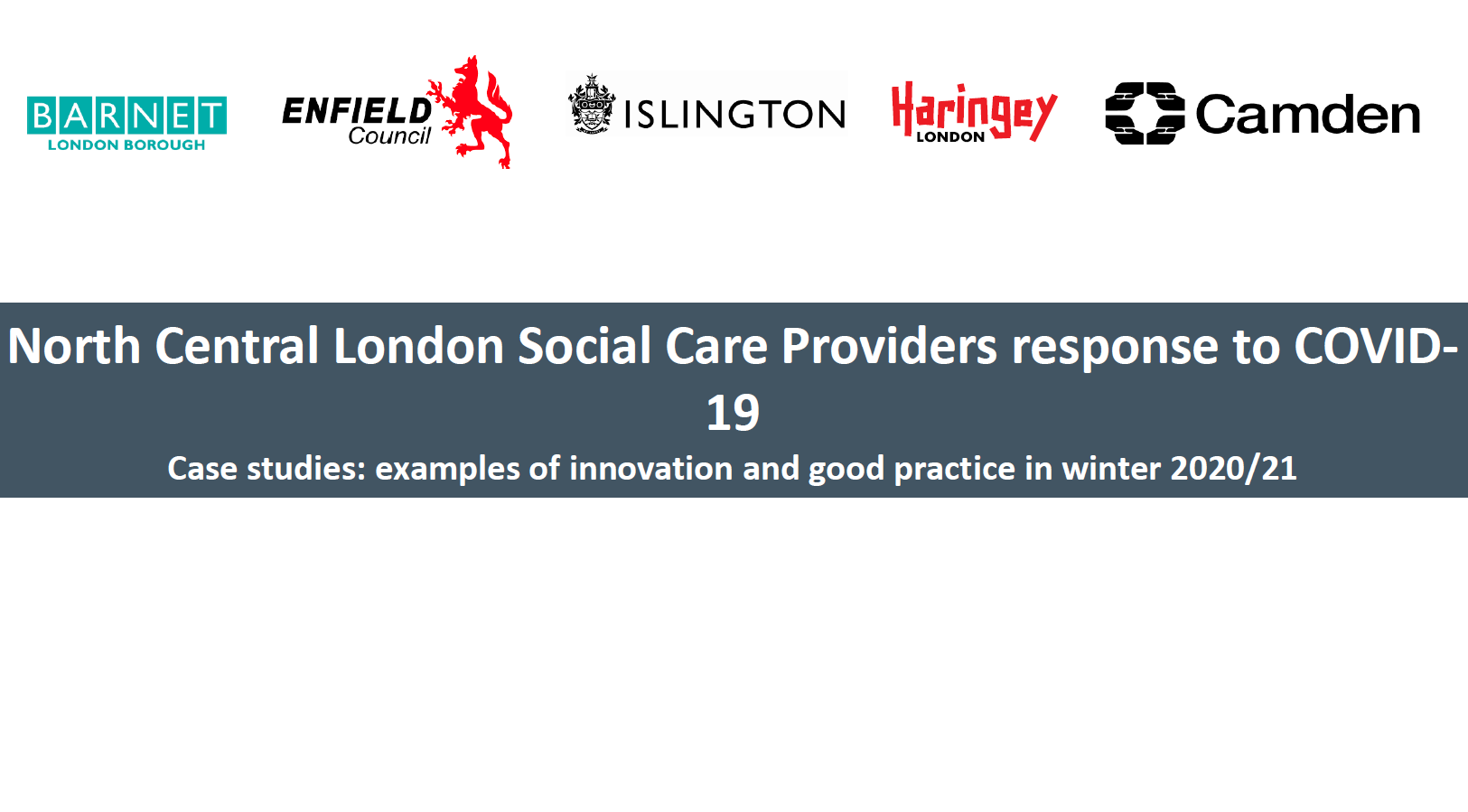 North Central London Social Care Providers response to COVID-19 Case studies: examples of innovation and good practice in winter 2020/21