Welcome to Proud to Care social care Covid-19 Homepage
Providing information and resources for social care staff a
nd providers

relating to Covid-19 and flu vaccinations.
The vast majority of social care staff in north central London have been vaccinated against COVID-19. By getting vaccinated, you are protecting yourself and those around you including family, friends, colleagues, the wider community and the vulnerable people who you care for.
The evidence is clear: whether it's Omicron or any COVID variant, not getting vaccinated against COVID puts you at greater risk of serious illness and death. 
Please encourage all eligible staff to get their vaccines including their booster dose as soon as possible. Please support staff to take time out of their work day to do this as necessary.
How social care staff can get the COVID-19 vaccine
Anyone aged 16 or over can book an appointment for their first dose, second dose or booster dose on the National Booking System online or by calling 119.
You can also get any vaccine dose you are due without an appointment at a walk-in clinic in north central London.
Social care staff may also be invited to arrange an appointment by their employers.
Mandatory COVID-19 vaccination for social care staff in CQC regulated services
As announced by the Secretary of State for Health and Social Care on 31 January 2022, the government has stated that its intention is to revoke the regulations making vaccines a condition of deployment for health and social care staff, subject to parliamentary process.
The government has also published a written ministerial statement including what registered persons should do regarding the 3 February deadline for first doses and has written to all adult social care providers.
The Government's decision will require further consultation and a vote to be passed into legislation.
Vaccination is still the best way to protect ourselves against COVID-19. The vast majority of health and social care workers have been vaccinated, but we encourage everyone who is eligible to get their vaccinations and their booster.
Staff who have questions about the vaccine can go to any walk-in vaccine clinic and ask to speak to a clinician. Clinical staff will be happy to answer questions and discuss any concerns and there is no obligation to get vaccinated following this conversation.
Mandatory vaccination for care home staff
The Government has stated its intention is to revoke mandatory vaccination of care home workers, subject to parliamentary process. We will update care providers and managers when more information is available
Since 11 November 2021, care home workers are required by law to be vaccinated with two doses of a COVID vaccine. This applies to care home staff, agency staff, volunteers and anyone who goes into care homes to do other work, including healthcare workers, tradespeople, hairdressers and beauticians. It does not apply to friends and family visiting residents or for staff visiting in an emergency.
Booster doses are not required by law but are strongly recommended for all health and social care staff.
Medical exemption from mandatory COVID-19 vaccination
Very few people are medically exempt from having the vaccine. Exemptions are available to those who have a severe allergy to all the available vaccines or their ingredients and to those who had a serious reaction to the first dose of a vaccine. Temporary exemptions are available for those who are pregnant, though the national advice is that pregnant women are more at risk from severe COVID-19 disease and they are strongly advised to get vaccinated.
Only care staff who have good reason to believe they have a valid medical exemption should apply.
To apply for medical exemption, call 119, fill in the paper form that will arrive in the post and then drop it off with their GP who will complete and submit it. There is no need to call GPs to discuss applications or to make an appointment. GPs will use the applicant's medical records to complete the form.
The outcome of applications will be sent to applicants by post within two to three weeks after completed forms are submitted.
Recording vaccinations given overseas
You can now get COVID-19 vaccinations given outside of England to show in your NHS records. You need to provide sufficient evidence of vaccinations received overseas including vaccine type and batch numbers as well as a passport for identification.
You can use this service if you:
are aged 18 years old or over
have an NHS number
have received one of these MHRA-approved vaccines outside of England - AstraZeneca (Vaxzevria), Pfizer (Comirnaty), Johnson & Johnson (Janssen) or Moderna (Spikevax)
Find out more and make an appointment
How social care staff can get the flu vaccine
Anyone living or working in a care home is encouraged to have both the flu and COVID-19 vaccines. You will be able to get the flu vaccine:
At your GP surgery
At a pharmacy offering the service – either by booking online at londonflu.co.uk or walking in
In the care home or extra care service, when residents are vaccinated. If for any reason the administering healthcare professional doesn't have capacity to vaccinate you on site or you miss the visit then staff are advised to book using one of the methods above
Find out more about the flu vaccine and how to get it
More information
On these pages you can find frequently asked questions about the COVID vaccine for social care staff, a gallery of photos, videos and testimonials from staff who have had their vaccines, and recordings and slides from recent staff webinars.
You can find accurate information about the COVID-19 vaccines, including testimonials from many Londoners on the NHS vaccine facts website.
Further information and frequently asked questions on COVID-19 vaccines and flu vaccines are available on the North Central London CCG website, the NHS website and the Health Security Agency website.
There is a clear explanation of why boosters strengthen immunity in this BBC article Omicron: Why do boosters work if two doses struggle?
Weekly reports about number of patients in critical care, including their vaccination status, are published by the Intensive Care National Audit & Research Centre (ICNARC). The rates of admission to critical care units in the UK by vaccination status is shown in the ICNARC graph below.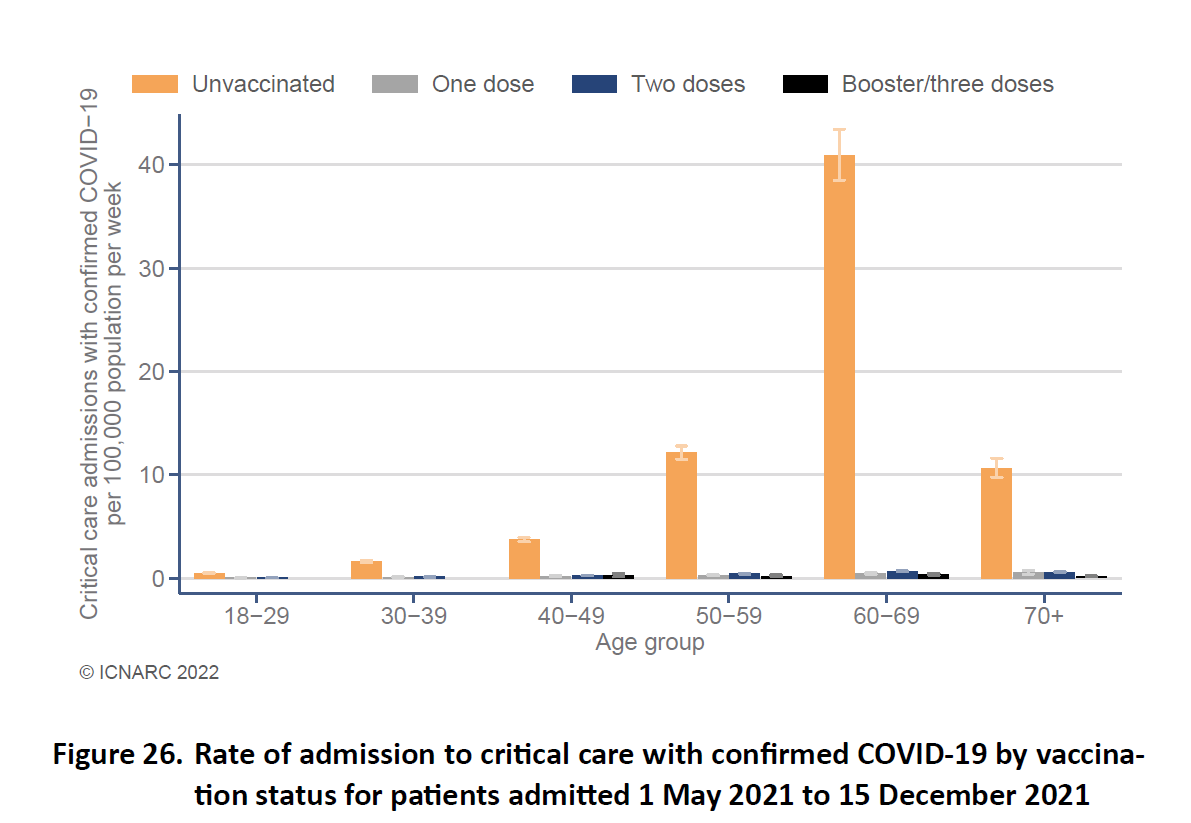 Borough support
If you have particular questions or support needs around the vaccine please contact your local authority borough lead:
Barnet - Carequality@barnet.gov.uk
Camden- socialcarevaccinationinfo@camden.gov.uk
Enfield - des.o'donoghue@enfield.gov.uk
Haringey - Sujesh.Sundarraj@haringey.gov.uk
Islington - Russell.Jones@islington.gov.uk