What is progression?
Progression is often moving on to a different type of job, or moving into a different type of setting or with a different group of people.
Progression can also be moving on to a job with more responsibility, which requires new skills, knowledge and qualifications.
We believe no matter what role you start in or where you are in your career path, there are always opportunities to develop and progress in social care. Within the NCL there are numerous pathways of progression, and helpful employers who are able to talk you through all the opportunities available.
How can I progress in Adult Social Care?
There are over 50 vocational qualifications at different levels in social care, they're specific to social care and teach you the practical skills and knowledge you need for your role or the role you want to progress into.
Formal Qualifications
Your employer might pay for you to gain additional qualifications or may select to gain qualifications independently. If you want to gain qualifications independent from your employer you can apply for government-backed funding in the form an Advanced Learner Loan which can make qualifications and training more affordable.
For information relating to the Advance Learner loan click here: Advanced Learner Loan
Apprenticeships
Apprenticeships are a free training opportunity that you can take up on a wide variety of topics

You can start an apprenticeship at any time, even if you already have qualifications

There are a wide variety of apprenticeships available, however the one you choose needs to be linked to your job role
Interested in having a further chat?
If you are interested, contact alice.long@nhs.net or 07423 796 124
Alice can help you choose the right apprenticeship and explain what happens next.
Training
Alternatively, within adult social care there are often plenty of opportunities to gain additional skills with the support of your employer. This could include face to face, e-learning or on the job training. There is also the option for those who are interested to do some training outside of work to develop your own skills. You can often find learning resources online, or you might want to enroll on a course at your local college.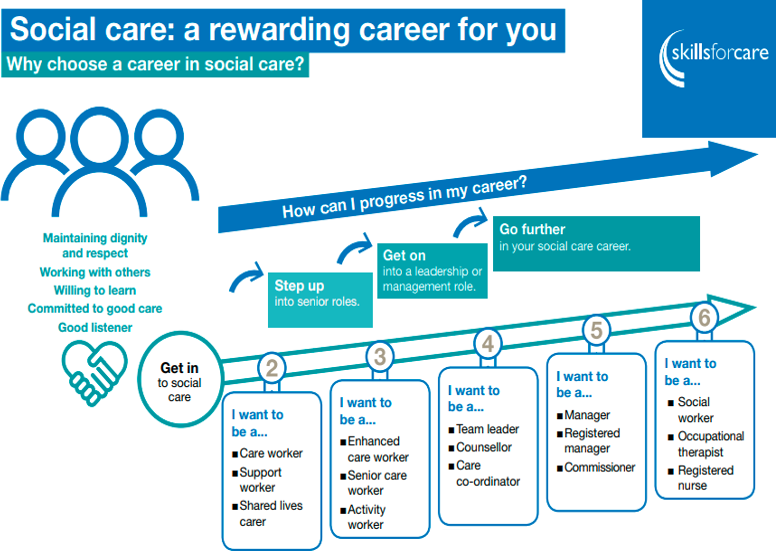 Click below for information about the formal qualifications in the adult social care that can support your career progression.
How can I move into a senior role?
Roles such as a care assistant or support worker, require you to do a Level 2 Diploma in Health and Social Care. Once you've achieved this qualification this provides you the opportunity to progress on to a Level 3 Diploma in Health and Social Care or into more senior roles such as:
Team leader
Supervisor
Activity Coordinator
Rehabilitation worker
How can I move into a leadership or managerial role?
Progressing into a deputy manager, team manager or manager roles require more responsibility or greater specialist knowledge and skills. There are lots of ways to develop such skills, including undertaking new managerial tasks, training and developing other staff and representing your organisation at external events and meetings.
Management skills can also be developed using the Skills for Care: 'Lead to succeed' learning programme or by completing the Manager Induction Standards or Level 4 Certificate in Principles of Leadership.
CLICK ON THE BOXES BELOW TO FIND OUT MORE ABOUT HOW QUALIFICATIONS CAN HELP AID YOUR PROGRESSION :